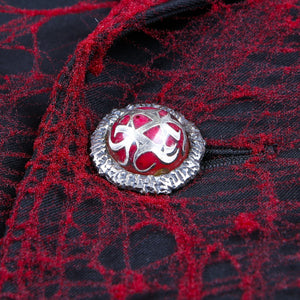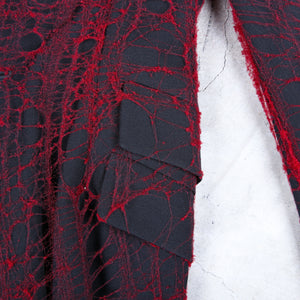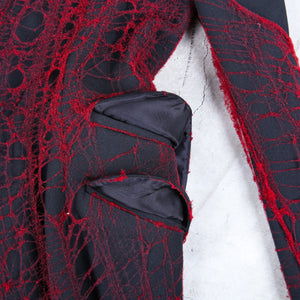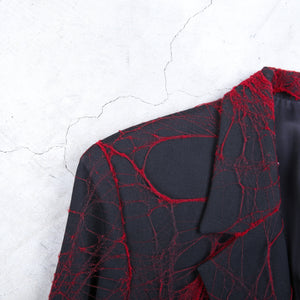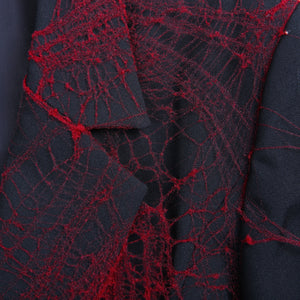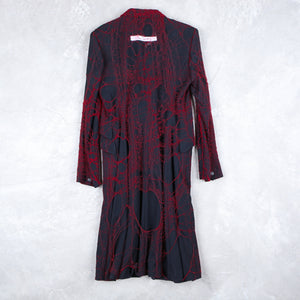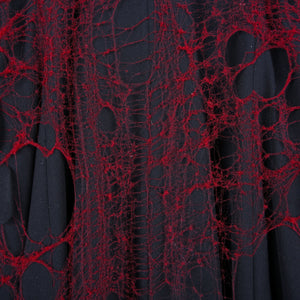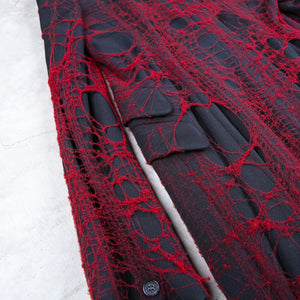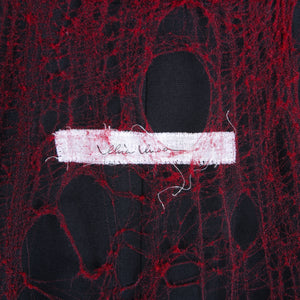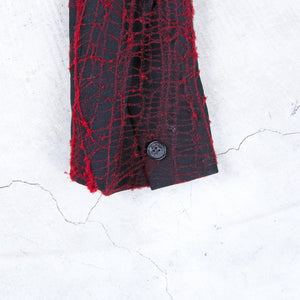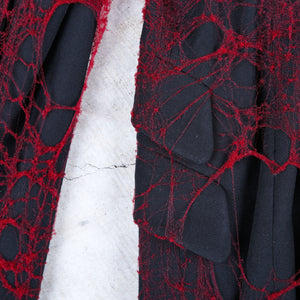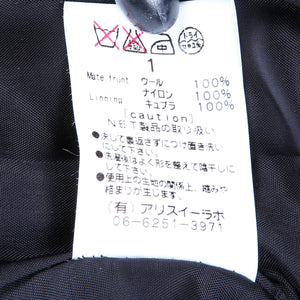 Alice Auaa
Alice Auaa Cobweb Trench Coat
This one of a kind coat features Alice Auaa's signature cobweb detailing throughout. The suspended nature of the mesmerizing cobweb texture allows it to be free flowing & independent from the thicker fabric of the coat itself. This unique technique allows the cobweb texture to remain intact & not get contorted through movement. Key gothic elements true to Alice Auaa's work are easily recognisable on this piece. It features a heavy silver button on the front with a red "orb" like centerpiece which really ties the entire ethos of the brand together. Also further exemplifies the gothic nature with a mystic & medival like engraving around it. Hand sewn Alice Auaa garment tag allows the wearer to subtly yet confidently flaunt the rarity of this piece.  Further accentuating the sharp squared off shoulders. 
Used for "Claymore" Editorial 
Alice Auaa has risen to the top of premier gothic & lotita brands, garnering a cult-like following as it approaches the labels 30 year mark. Alice Auaa began in 1993 in Kobe, Japan carrying heavy roots in the punk and before mentioned gothic scene. Combining these styles the brand opened up a shop by advertising itself in the "London" underground fashion scene. Taking heavy inspiration from the 60s punk scene and new wave artists at the time. Alice Auaa's garments are highly coveted in a punk's wardrobe. Pieces from the brand range from crust punk pants, blouses and coats to tasteful "early period" like clothing with a gothic twist.

Season: Early 00s
Size: 4
Shoulder: 18.5"
Sleeve: 25"
Chest: 17"
Waist: 15" 
Length: 45"
Hem: 22"
Material: Mate Front 100% Nylon 100% Wool, Waistband 100% Cupra
Condition: 9/10
Colour: Black & Red Cobweb