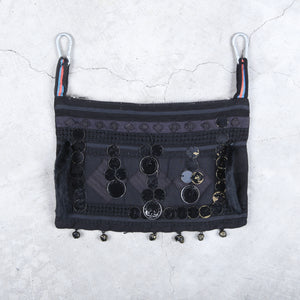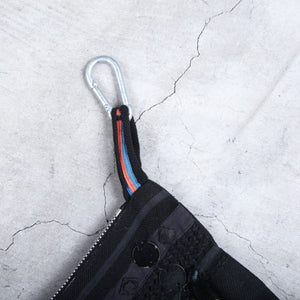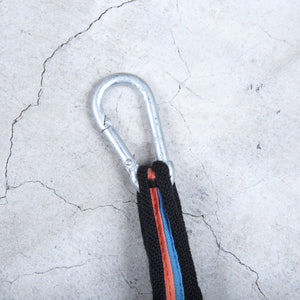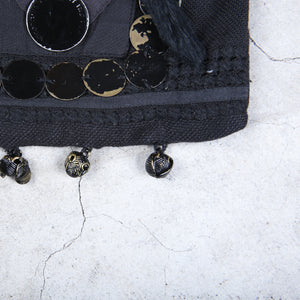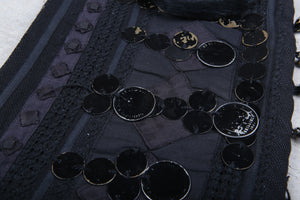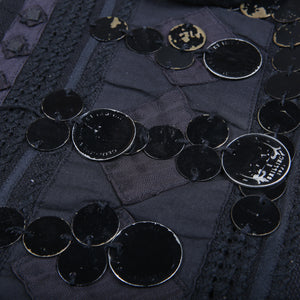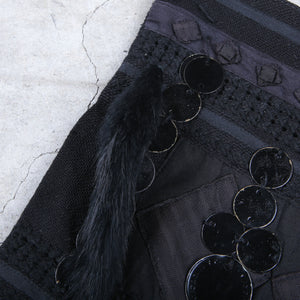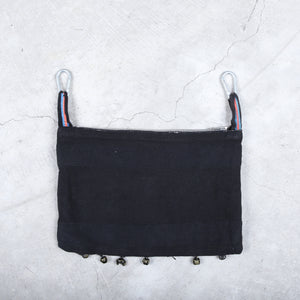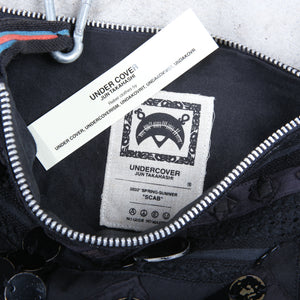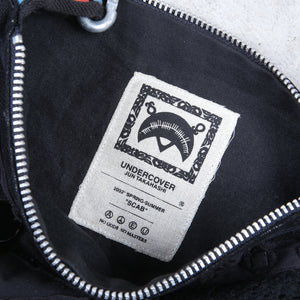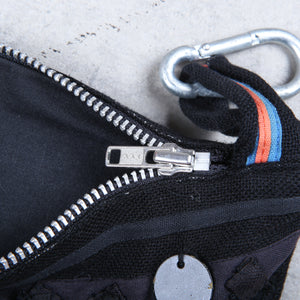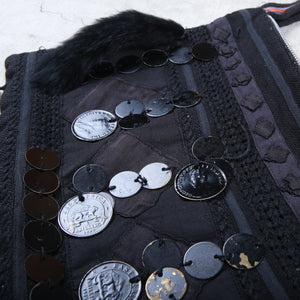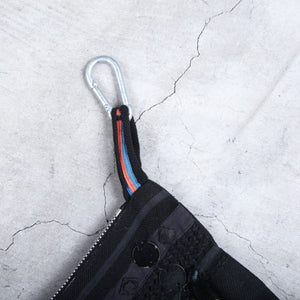 Jun Takahashi
Undercover SS03 "SCAB" Clip Waist Bag
The runway featured various & seemingly endless variations of accessories. Each garment strategically designed to add on accessories to the outfits. These elements were the presence of rings sewn into pants, skirts, trousers & even harem pants. Allowing the wearer to attach multiple accessories along with the outfit making it almost hybrid. There were also a heavy presence of zippers, lined up around the waist allowing for arabic inspired waist like accessories to able to be attached while wearing the clothes.
As a nod to the culture it is highly likely the certain ornaments seen on this pouch are heavily inspired by belly dancers hip scarfs. Worn to help check movements of the hips these ornaments comprised of; Coins with heads, bells, fringes & hand sewn patterns into the garments themselves.  All seen heavily throughout the runway adding into the sense of hearing as an added element. 

This black hip pouch containing all of the key elements mentioned earlier, have also the slight added touch of Jun Takahashi such as turning it into a pouch with clips that can be easily attached onto any garment from the collection. The classic coins & bells hanging from the bottom ringing as it is worn. With stripes of color used throughout the runway connecting the clip to the bag.
Season: Spring/Summer 2003 "SCAB"
Size: OS
Height: 9"
Width: 20"
Depth: 3.5"
Fitting: Regular
Material: 100% Cotton
Condition: 7/10 
Colour: Black