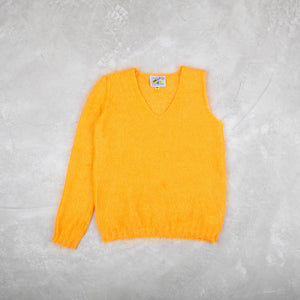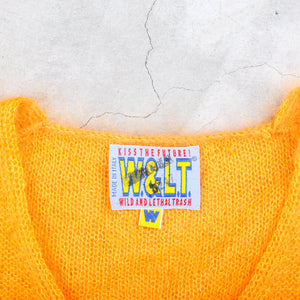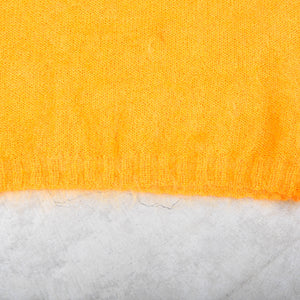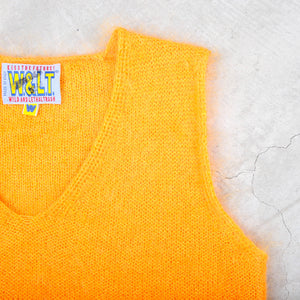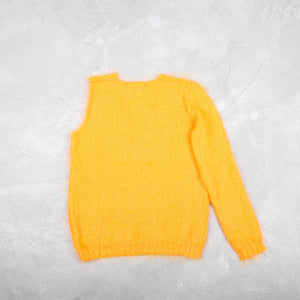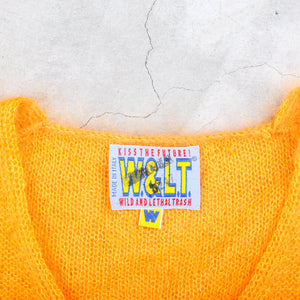 Walter Van Beirendonck
W & LT Mohair Orange Cut Sleeve Sweater
Walter Van Beirendonck 80s Punk Mohair Sweater Cut Sleeve
Beautiful Wild & Lethal Trash by Walter Van Beirendonck knit wool sweater with mohair detailing. Wild & Lethal Trash (W.&.L.T.), was Walter Van Beirendonck's label, before expanding. W.&.L.T. was a brand far ahead of its time, much like the other five designers from the Antwerp six. One of the first clothing brands ever to have an online store, the brand was distinctively futuristic while other brands were looking to keep up with current trends. Walter Van Beirendonck paved a way for avant-garde fashion, & implemented elements into his clothes that were far ahead of his era. His clothing also carried serious social messages, and their main slogan "Kiss the future," was a literal representation of how Walter was ready to embrace what the future was going to bring.
This sweater is a prime example of Walter's work at Wild & Lethal Trash,  as flamboyant as it is, this was one of the more tame pieces from his collections. Featuring a mohair, neon orange coloured base tone, the sweater is crafted from a fine mohair knit. Creating a grunge inspired look similar to the mohair sweaters you'd see "Johny Rotten" From "The Sex Pistols" wear in the 80s though the 90s.
The craftsmanship on this sweater is impeccable as well with seamless transitions between patterns around collar & hems. With one Sleeve cut out it has a unique look. Tagged size medium, fits true to size, or ever so slightly elongated length. Perfect condition with no flaws whatsoever. Here is the chance to purchase an extremely rare W.&.L.T. by Walter Van Beirendonck sweater.
Season: Mid 80s
Size: M
Shoulder: 15"
Sleeve: 26.5"
Chest: 19"
Length: 25"
Material: 100% Mohair
Condition:  9/10
Colour: Neon Orange