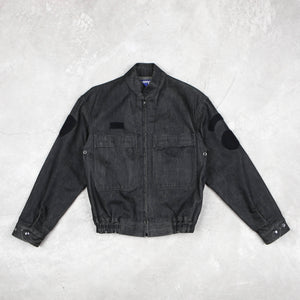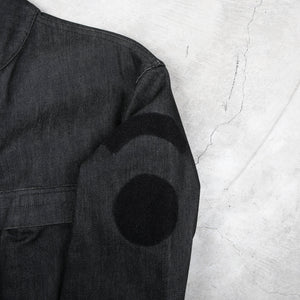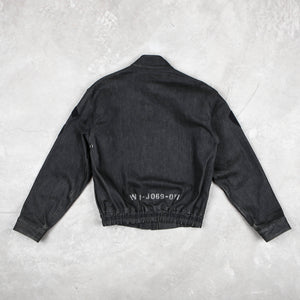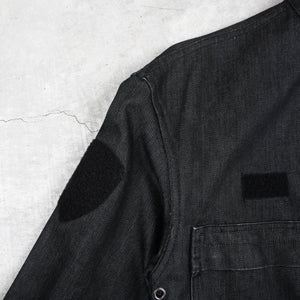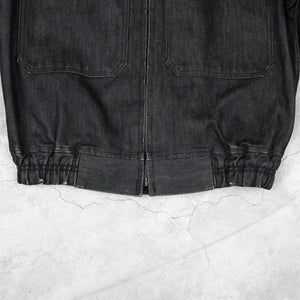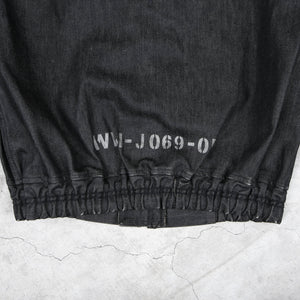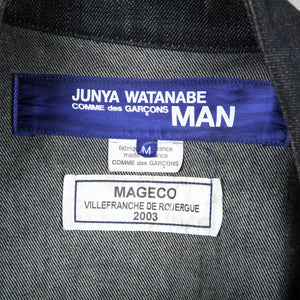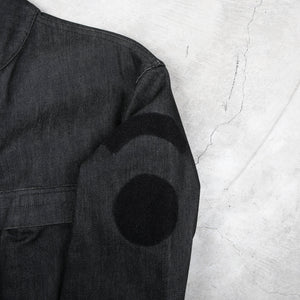 Junya Watanabe
Junya Watanabe AW/03 Denim Bomber Patch Jacket
The Fall/Winter 2003 collection was a great leap for Junya Watanabe, as he took an unexpected twist for the runway collection, he dove deep into alpine wear. Utilizing these refferences he took many aspects from the outerwear & channeled it into his collection. Taking many patterns for wool jackets, blazers & button ups from alpine wear & integrating it into the collection. It saw many different styled beanies & striking pants. 
This jacket is a prime example of where he drew some inspiration from alpine wear. Typically people who worked in the alpines had similar jackets with two oversized breast pockets, then typically patches on the side indication their position & sometimes even honorary badges, As we see on the jacket there are velcro patch marks. However Junya left them empty leaving the wearer the choice of what to do with them. 
Further more we can see in the back a cryptic code printed on, this typically would also indicate when produced where the jacket would be sent or a crew unit number for the alpine workers.  Made with 100% cotton & a protective layer coated over the jacket which is stain resistant.
Season: Fall/Winter 2003
Size: M (Fits Large)
Shoulder: 20"
Sleeve: 23.5"
Chest: 19"
Length: 25"
Hem: 17"
Material: 100% Cotton
Condition: 9.5/10
Colour: Dark Grey