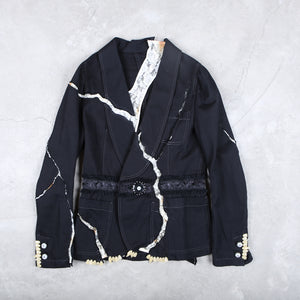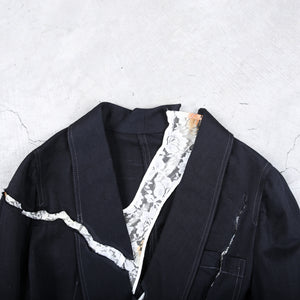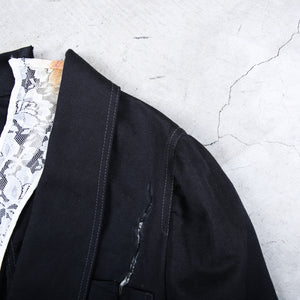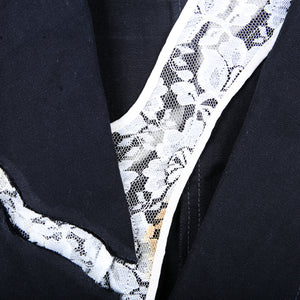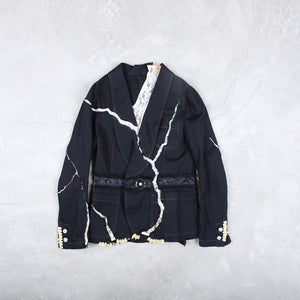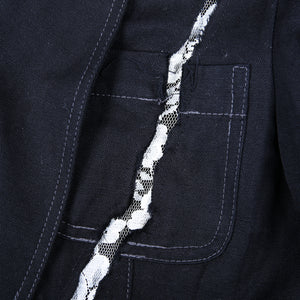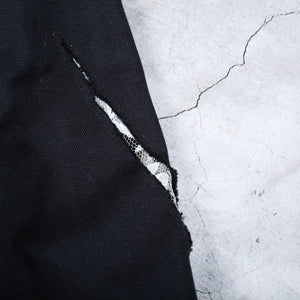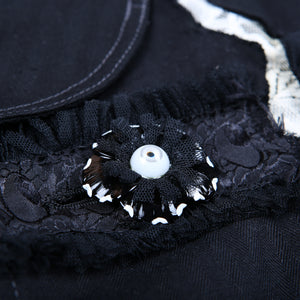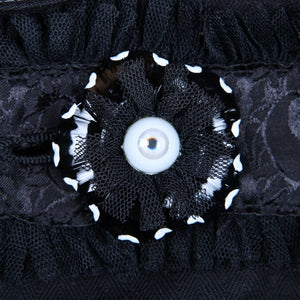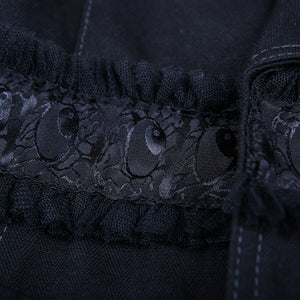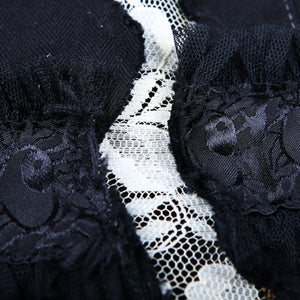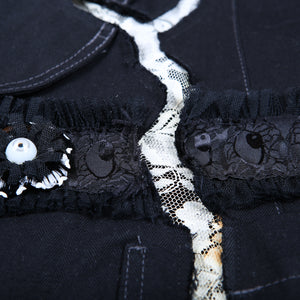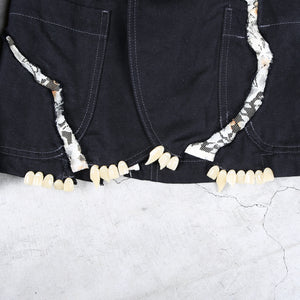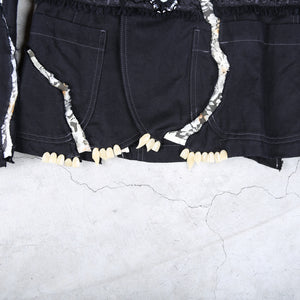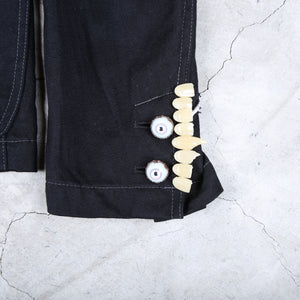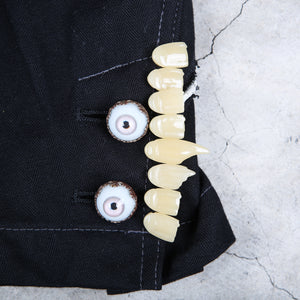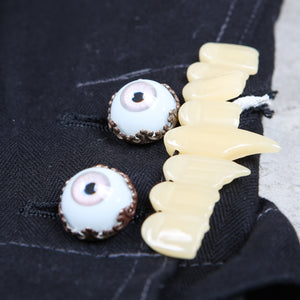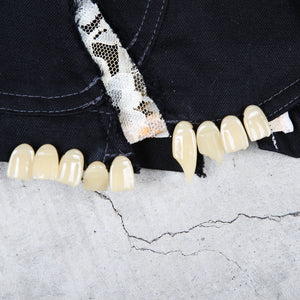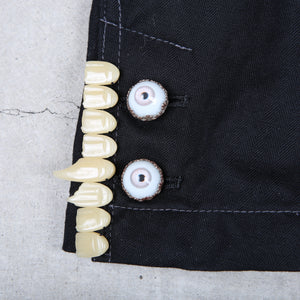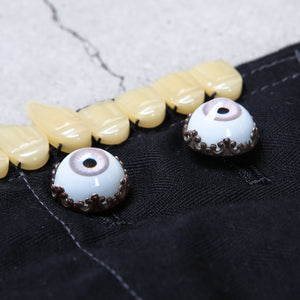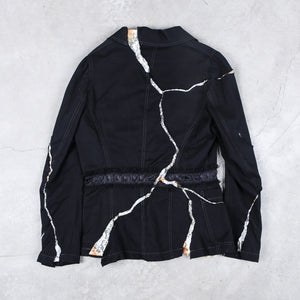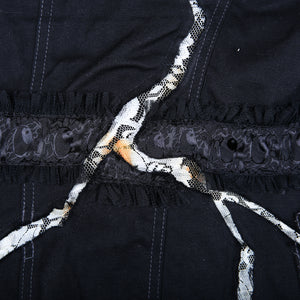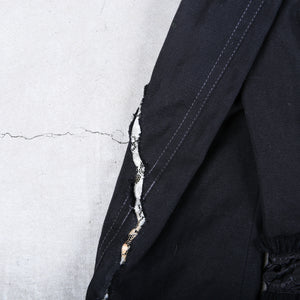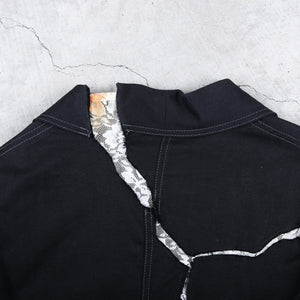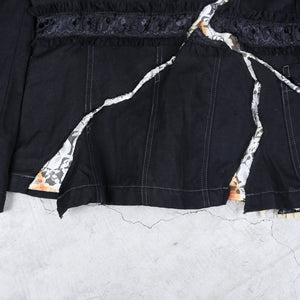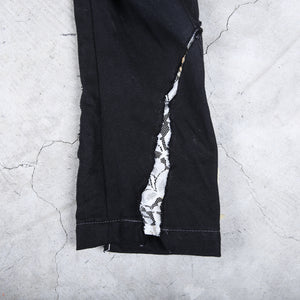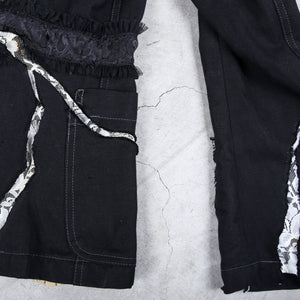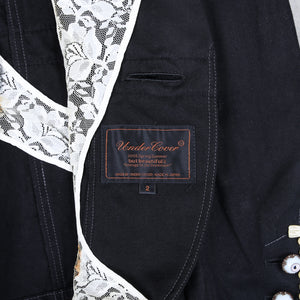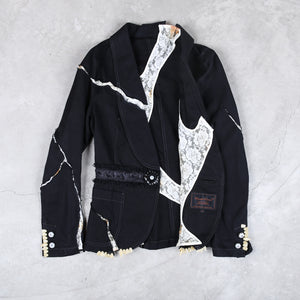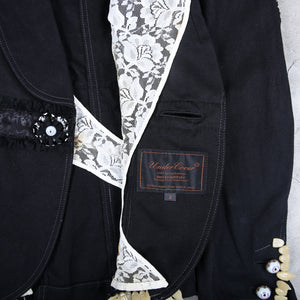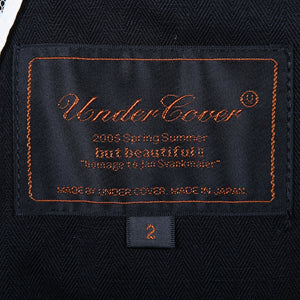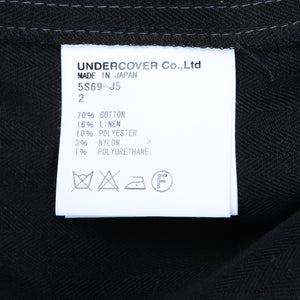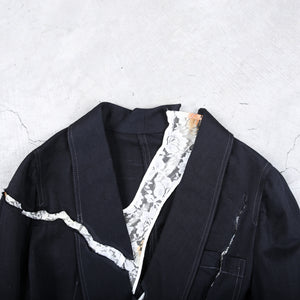 Jun Takahashi
Undercover SS/05 But Beautiful II Blazer Jacket
The show, pays tribute & is heavily inspired by Czech film Director/Surrealist Jan Švankmajer. Whom was influenced from early on in his childhood by a christmas gift received. This being a puppet theatre in the late 1930's. Švankmajer's career was full of Fantasy films that heavily incorporated dolls in unconventional manners. 
A key embellishment of this season are the eyeball cuffs & accessories. Seen as buttons on blazers, on the cuffs of jackets & even on these sneakers. Used to tighten the straps & hold shoes in place. Fly buttons are also seen, these are from Švankmajer's "Alice" (1988) a fantasy/adventure film. Props are used such as dolls & puppets, an early in career inspiration.
This jacket is an extraordinary piece from the "But Beautiful II" collection: a blazer jacket that intertwines meticulous craftsmanship with subtle nods to the Czech film maker Jan Svankmajer. This exceptional garment encapsulates Takahashi's unique design approach & attention to detail.
At first glance, the blazer jacket showcases an array of small yet intriguing details that contribute to its overall allure. Along the bottom hem, a series of meticulously crafted teeth add an unexpected touch of whimsy & playfulness. These teeth serve as a visual motif, hinting at the surreal & fantastical elements often found in Svankmajer's films. Often the characters to his films are dolls paired with prominent synthetic eye balls & teeth. Those key aspects are seen on this jacket. 
Another notable detail is the cracked effect created through layering different fabrics along the jacket. This deliberate technique adds a sense of depth & texture, evoking the essence of Svankmajer's artistic style. The cracked effect pays homage to Svankmajer's use of unconventional materials & his ability to imbue ordinary objects with a sense of surrealism. While comparing to some of the choice of garments to his films it is unmistakable to see the parallels between the runway & the films. 
Season: Spring/Summer 2005
Size: 2
Shoulder: "
Sleeve: "
Chest: "
Length: "
Hem: "
Material: 
Condition: 8/10
Colour: Black